Eat fresh. eat local.
Menus Past and Present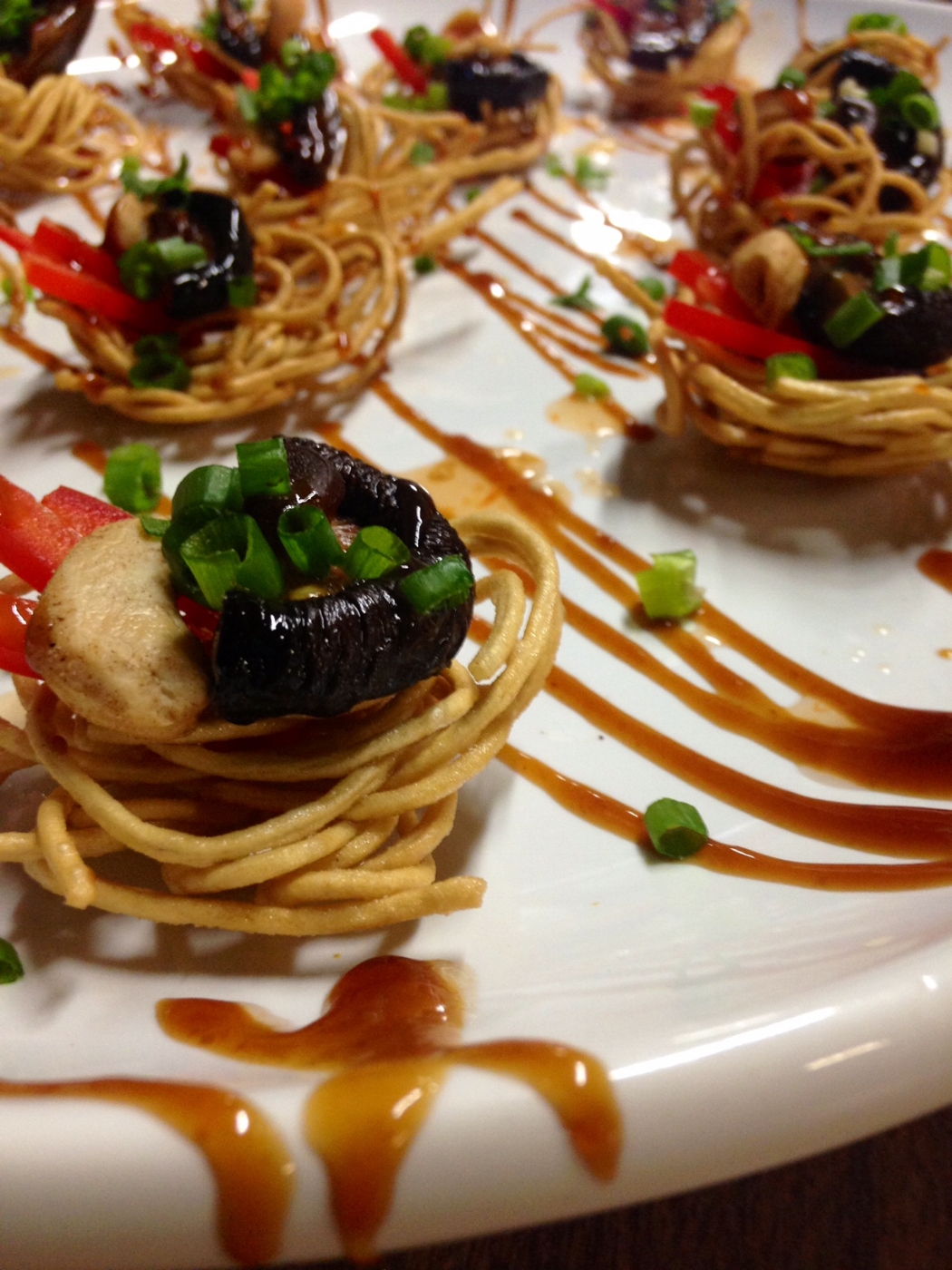 Breakfast for Dinner
The most important meal of the daY
Purveyors: Strong Stock Farm, Spring Creek Farm, Cruze Dairy Farm, JEM Farm, Crooked Road Farm, Three Bears Coffee, Benton's Country Hams
DEVILED EGG:
deep fried deviled egg + chow chow
STEAK & EGGS:
smoked ribeye + 142 degree quail egg + arugula
GRIDDLE CAKE:
buttermilk griddle cakes + cardamon creme layers
CHICKEN & WAFFLES:
fried teriyaki chicken + rice waffle + sriracha honey
BACON & EGGS:
bacon & egg roulade + smoked cheddar grits + bloody mary gravy
COFFEE & A DONUT
lavender sugar donut + coffee snow
Summer Garden Party
food in its natural setting
Purveyors: The Mockingbird Farm, Spring Creek Farm, Cruze Dairy Farm, Rushy Springs Farm
SUMMER PICKLES:
cauliflower + bell peppers + carrots + snap beans
CHILLED SALAD:
charred sweet peppers + homemade mozzarella + fig and bacon jam
SOUP:
smoked tomato water + bacon crouton + homemade creme fraiche
FISH:
north carolina trout + smoked ham + sweet spring onions
MEAT:
chicken & chanterelle sausage + pickled green onions + potato chip
DESSERT:
maple & butternut squash creme brulee + local honey glass
Historical Holiday Party
Based on menus from 1920-1933
Purveyors: Circle V Farms, Mountain Meadows Farm, The Mockingbird Farm, Abbey Fields, Rushy Springs Farm
BAR SNACKS:
olives + stored pickles
local cheese + boiled local chestnuts
pickled duck eggs + chow chow + savory granola
WEDGE SALAD:
charred romaine + smoked anchovy dressing + parmesan snow
FISH:
smoked catfish croquette + saved beans + sweet butter
MEAT:
grilled ham steak + shiso-chestnut pesto + hollandaise
DESSERT:
cannoli cigarette + charred lemon & ricotta + smoked chocolate ash
Taco Picnic
tacos? cookout? don't decide. have both.
Purveyors: Spring Creek Farm, Rushy Springs Farm, The Mockingbird Farm, Sequatchie Cove Creamery, Circle V Farms
PULLED PORK TACOS:
whole hog pork + potato salad + chicharrones + pickles
BBQ JACKFRUIT TACOS:
slow smoked jackfruit + creme fraiche slaw + pickled peanuts
BUFFALO TOFU TACOS:
buffalo fried tofu + blue cheese & carrot slaw + pickled celery
"B"LT TACOS:
tempeh bacon + grilled romaine + tomato jam + smoked aioli
CITRUS BAKED BEANS:
saved beans + charred citrus + tamarind soda
STREET CORN SALAD:
blackened corn + lime + farmers cheese + cayenne aioli + cilantro